Standards of healthcare in Morocco are generally quite good. Tetouan and the major cities have private medical facilities that provide general and emergency care in case of health problems. Many familiar prescriptions and over-the-counter medications are available at pharmacies, which are plentiful in and around Tetouan and other major cities.
We always encourage our students to talk to us in person should they feel sick so we can provide them with a list of doctors. They can also stop at any pharmacy which, in addition to prescribing medication on the spot, can also recommend doctors. Business hours for pharmacies are typically from 8:30 to 12:30 in the mornings and 3:30 to 7:30 in the evenings.

Please note that most doctors and hospitals will expect payment in cash, regardless of whether or not you have travel health insurance.
Here are some precautions you should plan to take while in Morocco:
Safety
While Morocco is one of the safest Arabic-speaking countries, security and safety issues exist. Here is what students should do for their safety: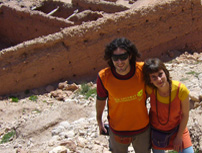 Theft: The most common crimes in Morocco involve petty theft and rip-offs. Students should therefore avoid carrying too much cash, blend in with locals, be aware of their surroundings and stay alert. Visitors (especially women) should travel in groups and be mindful of their belongings and surroundings in public markets, on public transportation and on the beach.
Transportation: Students should realize that traffic accidents occur regularly in Morocco due to poor roads (especially in the rural areas), poor driving practices and malfunctioning traffic signals. Dar Loughat advises the program participants to drive very carefully while in Morocco. It is also highly recommended that our students avoid low standard coaches. Trains and reasonably priced taxis make better options.
Alcohol and drugs: All students – and especially women - are cautioned about social drinking with Moroccans, as this can sometimes lead to unpleasant and, occasionally even dangerous situations. Students staying with Moroccan families should under no circumstances drink in their homes or return drunk.
With regards to Dar Loughat´s safety policy for students, we are committed to doing everything reasonably possible to ensure the safety of the program participants, beginning from their arrival to Morocco to their return to their home countries. A representative from the school welcomes and picks up the students either from the airport or seaport and drives them to their accommodation place, be it at a home-stay, an apartment or a hotel.
Additionally, the weekly-organized program activities keep students busy and safe. A member of the school team usually accompanies the students on their outings and excursions, which also helps them to stay away from trouble. Furthermore, Dar Loughat provides an on-site student orientation upon arrival and updated security information and advice during the students´ stay in Morocco.