Culture & Language Al-Andalous in both Spain and Morocco
Make both Granada and Tetouan your study abroad destinations and discover the majesty of Al- Andalous on both sides of the Mediterranean sea. Schedule your own program duration in each of the two cities.
This program is offered by Dar Loughat in cooperation with AECS, and combines a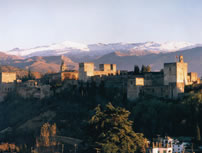 Spanish language program in Granada with an Arabic language program in Tetouan. Participants would be able to enjoy the enchanting Andalusian culture for a week or more and in less than an hour, cross to the other side of the Mediterranean Sea to learn Arabic and explore Morocco. They can schedule their own program duration (1 week minimum in each country) and choose their preferred course and accommodation in each of the two countries. Interested students should complete and submit a special application form.
About AECS
Andalusian Education & Culture Solutions (AECS) was founded in the Spanish city of Granada with the objective of providing high-quality academic services and intercultural programmes to students and diverse groups who would like to learn about and experience new cultures.

AECS considers education and training to be pivotal in enhancing intercultural dialogue that transcends national constraints, and is in keeping with the philosophy of its founders. The institution's vision is therefore to help unite cultures and promote global understanding through academic and cultural programmes, student exchange programmes and worldwide education.