The meeting place of many peoples, religions and cultures, Tetouan is a welcoming city situated on the Mediterranean coast near the Rif mountains. The white dove for Arab poets, the daughter of Grenada or the little Jerusalem for others, Tetouan is the meeting place of several cultures: Roman, Andalusian, local and European.
Tetouan is only 60 km from Tangier and less than an hour's ride on the ferry from the Spanish coast. Tangier has an international airport and ferry connections to Algeciras, Gibraltar and the French port of Sete.
The city of Tetouan is surrounded by majestic mountains and has an extremely pleasant weather (the temperature ranges between a low of 40ºF (5ºC) in the winter and a high of 86ºF (30ºC) in the summer.). With its excellent local beaches, Tetouan is a popular Moroccan resort.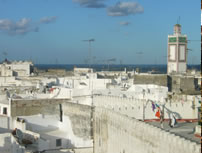 The historical city or Medina of Tetouan, classified by UNESCO as a world cultural heritage, is a glorious labyrinth, dotted with squares, souks and buildings from its fifteenth-century founding by Andalusian refugees. These refugees, both Muslims and Jews, brought with them the most refined sophistication of Moorish Andalusia, - an aristocratic tradition that is still reflected in the architecture of the Medina. Their houses, full of extravagant details, are quite different from those of other Moroccan towns, and much close to the old Arab quarters of Cordoba and Seville.
The Spanish connection was reinforced by colonization in the early years of the last century, Tetouan becoming a provincial capital of the Spanish northern protectorate, encompassing the Rif Mountains. Although French is the official second language (after Arabic) throughout Morocco, Spanish is widely spoken in Tetouan. There are also many reminders of Spanish heritage, particularly the cuisine and the "paseo" – the summer evening stroll.