Student Life
After classes are over for the day, our program allows plenty of time to discover Morocco and its culture. Our optional cultural and social activities allow you to make new friends, experience the local life, practice your Arabic outside the classroom, and immerse yourself in the culture. Many of these activities are free.
Cultural Activities
Dar Loughat organizes and holds several conferences and lectures on a variety of topics and issues. They are generally delivered in English, Spanish, French or Arabic. Previous conferences were on Moroccan history and its cultural heritage, the cultural diversity of Tetouan, Women in Islam, Arabic calligraphy, Andalusian Music, Tetouani Cuisine, the Moroccan political scene, etc.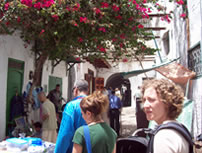 The school organizes several guided tours and visits to the traditional city of Tetouan and its numerous museums and social associations.
From time to time, Dar Loughat organizes informal outings for the students to eat together in popular local restaurants or to take refreshments in the Medina. Besides, international potlucks are sometimes organized by the students themselves, and allow them to experience other cultures and eat delicious food from other places.
During their program, students usually get the chance to attend local receptions, parties, weddings or concerts of Andalusian or spiritual music.
At Dar Loughat, students have the opportunity to watch a number of Moroccan movies and films in Arabic in the evenings or on the weekends.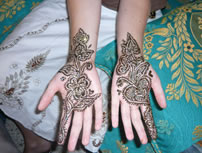 At their homestays, female students can hire a Hennaya to apply the famous henna designs to their hands and ankles.
Immersion Activities
The homestay program is intended to bring participants as close as possible to the Moroccan lifestyle and help them to build a better understanding of the culture. Having a dinner, attending a marriage ceremony or going out with the family once a while helps students understand and adjust to the culture and constitutes an opportunity for them to practice what they have learned at the school.
This program is intended to allow contact and interaction between students of Arabic and Moroccan students of other languages. It is very useful and beneficial for both Moroccans and students of Arabic; in that it helps them improve their fluency in the language they're learning and at the same time establish friendships with local people (for the foreign students).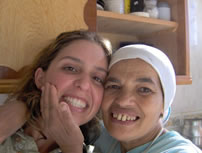 To further immerse our students in their new environment and allow them to explore more about life in Morocco, we have established another program of immersion. Volunteering is another opportunity through which students can deepen their knowledge not only of the Moroccan culture but also of the economic and social aspects of the society. Students may choose to complement their language learning experience by volunteering at one of our partner NGOs.
Semi-classes on Moroccan cuisine, ceramics, and Andalusian music
Dar Loughat has tailored fun classes on cuisine, ceramics and music for students longing to experience how it feels, tastes, and looks like to be Moroccan. Students may choose to take one of those classes to complement and enjoy their study abroad experience.
If interested in participating in one of those aforementioned immersion activities, please contact us.
Excursions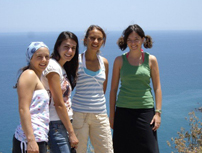 On weekends, students can enjoy the city's excellent beaches or its majestic mountains which spread eastwards along a distance of more than 500 kilometers. They can also choose to participate in the trips Dar Loughat organizes to cities such as Chefchaouen, Tangier, Asilah, Marrakech, Fez, and the fabulous Moroccan desert.
Festivals & Events
Tetouan
Mediterranean Film Festival: held every year at the end of March.
International Cartoon Festival: held every year in mid-may.
International Lute Festival: held every year at the end of May.
Chefchaouen
Andalusian Music Festival: held every year at the end of june.
Asilah
International Art Festival: held during the two first weeks of August every summer.
Fez
Festival of World Sacred Music: held every year at the beginning of June.
Essaouira
Gnawa Music Festival: held every year at the end of June