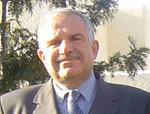 "Thank you for your interest in our program. We are delighted that you are considering to study Arabic at Dar Loughat. We have an excellent program. Should you join us, you will become part of our ever-expanding global family.
At Dar Loughat, you will find that both our teachers and students have diverse educational backgrounds and specialties, including politics, religion, history, Middle Eastern or North African studies, and world languages and cultures. We are all united, however, by our interest in cross-cultural communication thereby transcending cultural, racial, and religious borders.
I invite you to join us. I am confident that you will find the time you spend studying Arabic and learning about Moroccan culture at Dar Loughat productive and rewarding."
Dr. M'hammed Benaboud
Chairman
Overview
Dar Loughat is a professional language center in Morocco providing intensive courses in all levels of Modern Standard Arabic and Colloquial Moroccan Arabic throughout the year.
Founded in 2004 in the heart of the city of Tetouan in northern Morocco, Dar Loughat has rapidly established a strong and well-respected reputation as a cross-cultural center in the Arab world.
The city of Tetouan, declared a World Cultural Heritage by UNESCO, stands out for its strategic location, as it is less than sixty kilometers from Algeciras in Spain to the north and sixty kilometers east of Tangier. The small size of the city allows students to easily become integrated and immersed into the local culture, which is famous for its legendary generosity and tolerance.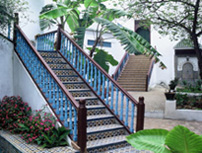 While studying Arabic in Tetouan, students can enjoy the city's excellent beaches, which are undoubtedly among the most beautiful in the entire Mediterranean area, its evergreen Rif Mountains which spread eastwards along a distance of more than 500 kilometres and its five-century-old Medina.
The school is fully equipped with the latest audio-visual material, modern language labs, wireless internet connection and a small library that contains a considerable number of books on a variety of topics.
The flexibility of the starting dates and the program length allows students to attend Arabic classes anytime throughout the year, from just one week to a complete academic year.
At Dar Loughat, students benefit from small-sized classes of between three and eight students (maximum) and a wide range of excursions and social and cultural activities allowing them to get the most out of their international experience.
The school welcomes a diverse and international student body throughout the year. Students from all parts of the world come to Dar Loughat to learn Arabic and discover Morocco's rich and unique cultural legacy.
Language courses are given by enthusiastic, multilingual, qualified and experienced teachers, exclusively dedicated to teaching Arabic to non-native speakers. All classes are given in Arabic, except for complete beginners, where use of the student's mother tongue is kept to a minimum.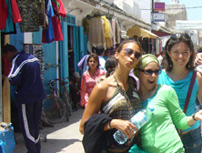 Through various immersion and language exchange activities, Dar Loughat provides its students daily contact with Moroccan life, allowing them to expand their vocabulary, improve their spoken language performance and better understand the local culture.